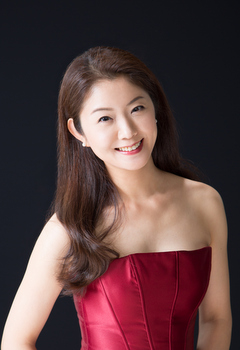 Born in Vancouver, Canada. Begun studying the piano at the age of three. After returning to Japan, she moved to Manila at the age of six, where she studied with the former Spanish governor general's first daughter, pianist Stella Goldenberg Brimo. She was first featured on television at age nine when she held a recital at Paco Park in Manila City. She wants to be a way of the cultural exchange by the art in the global community through piano music from the childhood period.

Since returning to japan, she studied piano at the Toho Gakuen Music Higschool and the Toho Gakuen College of Music. At age 19, she studied the fundamentals of the Russian Leningrad style, which cleared the world of the original art expression, abroad in Vancouver with Dr. Eugene Skovorodnikov.

In 1996, she met Lazar Berman, who she studied with for eight years in Florence, Italy.

In 1995, she won third place at International Piano Competition "Rome", and in 1997, she won first place in both the solo and concerto competitions at the Kiwanis Festival in Canada with the judges' unanimous approval. She has been active about various contests afterward in the situation of the judge.

In 1996 and 1998, she performed in the International Holland Music Sessions in the Netherlands, and the Schleswig-Holstein Musik Festival in Germany. German newspapers, including the Flensburg Journal, gave rave reviews following her performance.

Following her 1999 debut recital at the Casals Hall in Tokyo she has performed in many places, including on NHK-FM's FM Recital and Meikyoku Recital, Ishii Tatsuya's Classical Concert Tour, the Iwao Furusawa Violin Recital, and the numerous Kawai Concerts throughout Japan. In 2011 she performed in the Kawai Eastern Japan Earthquake Relief Charity Concert, and the Hamaryukyu Asahi Hall and the All Liszt Program Recital in November commemorating Franz Liszt's 200th birthday. She has also participated in a registration artist of "Sumitomo Life Insurance Co. charity concert" developed all over Japan in 2012. In June, 2013, She took it up about Handel, Chopin, Liszt and Rakhmaninov at Kioi hall in Tokyo, and hold a solo recital following the genealogies from Baroque to Romantic music.

Started "promotion activity of culture via the fusion of the academic research and the art" in academia since the solo piano concert at the National Astronomical Observatory of Japan hall in Tokyo in November, 2007; is a performance at Sano Shoin Hall in Tokyo of Hitotsubashi University in March, 2008 , at Keio University Fujiwara Hiroshi Hall in Yokohama as the grand opening of a new theater concert organized by contributions foundation 150 years in September, 2008, at the Toppan Hall in Tokyo as the Mathematical Society of Japan Prize memory concert in March, 2012, at Kobayashi(Nobel Prize winner) Hall of High Energy Accelerator Research Organization in Tsukuba in July, 2012, at Keio University Fujiwara Hiroshi Hall as Toyohashi Institute of Technology and Science's publication memory symposium concerts in July, 2013, etc..

Her overseas activities center around Europe: Italy, Germany, Britain, the Netherlands, Lithuania, and Estonia. In Italy, she performed at the Palazzo Budini Gattai in Florence, Istituto Universitario Europeo in S.Domenico Fiesole and Museo della Madonna del Parto in Monterchi, Arezzo; in Lithuania, with the Kaunas Symphony Orchestra; and in Estonia, as a soloist at the David Oistrakh Festival. She performed a solo recital in Santiago , Chile in 2010 and received invitation again because she had received a standing ovation of the audience of the whole hall including the ambassador of 20 countries and put the South America's first performance in a great success and, in 2011, it lasted at 2 night and held a continuation solo recital at 3 night in solo recital and costarring with the Andres Bello Orchestra, in 2012 , and performed consecutively concerts in Chile for three years. In addition, in 2012 and 2013, she also received a standing ovation by performance in Vancouver, Canada, and she got enthusiastic support of the audience in North America and South America. She is enlarging the place of the activity all over the world in order to achieve will from the childhood period.

In addition to performing, the eight pieces of CDs and one piece of DVD (all live collecting, meeting place-limited board) are released so far. Two pieces of albums are delivered by iTunes from 2012.

To date, she has studied with Stella G. Brimo, Yuri Hamaguchi, Sadako Matsuoka, Eugene Skovorodnikov, Valentina Berman and Lazar Berman.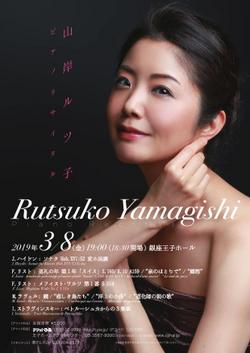 Jun.06

[ vanvouver, canada ] Christ church cathedral

Fraser Jounal 30th Anniversary
Turkey/Syria Earthquake Relief
Rutsuko Yamagishi Charity Piano Concert


Date: jun 6th 2023
Christ Church Cathedral
Burrard St. x W.Georgia St. Vancouver, Canada
Opening: 17:45-
Program:
F. Chopin, F. Liszt
Host: Fraser Journal Publishing
In Cooperation with: The Lister Hotel
Supporting: AMDA